Our Shire's name came about when looking for a symbolic item for the area. At the time, Lyndhaven was mostly comprised of people living in Fredericton, NB, which was known as "the City of Stately Elms", however, due to the prevalence of Dutch Elm disease, many of our Elms have died off. In their place, the majestic Linden was planted, and indeed, many Lindens can be seen towering throughout the region, and thus "Lyndhaven" was born.
When our shire was officially established, it did not just encompass the Fredericton area, but the entire province of NB, and continued to hold these lands for many years until the formation of the Shire of Avonmore, which now holds lands in Eastern New Brunswick (mainly the Moncton and Sackville areas).
Today, most of Lyndhaven is made up of the northern parts of NB as well as the western side of the province with activity mostly centralizing in the Woodstock, Fredericton and Saint John areas.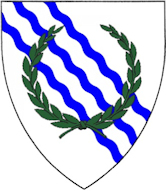 The Shire of Lyndhaven's name was registered in December of 1988 and our arms:
Argent, three bendlets wavy azure overall a laurel wreath vert, was registered in April, 1996.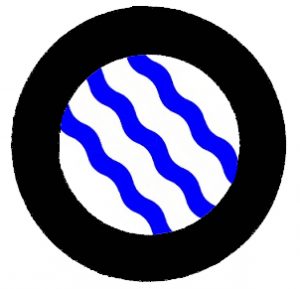 Since January of 2003, we also have a badge registered: (Fieldless) Three bendlets wavy azure within and conjoined to an annulet sable
From Lyndhaven's early years, it's longest running event has been the May long weekend (Victoria day) event. In it's early days it was known as the Lyndhaven Schola which eventually morphed into a" Schola and Northern Shores Warcamp". It was chosen as a host for the regions war camp as the far western NB event was viewed as a good central point for groups east and west of what is now the crown principality of Tir Mara. As the "NS Warcamp" was retired, the event became "Middleground" and continued to be held near the Woodstock area until around 2011, where it then moved to an area north of Fredericton (Yoho Lake). This event continues to draw people from both ends of the region as well as groups across the border.
We also had many other events with some repeating several times such as the Fall Harvest/Shire Championships event, which is becoming a more annual affair, offering people a chance to compete in whatever activities are prominent at the time. (the last few years have been armored combat and A&S)